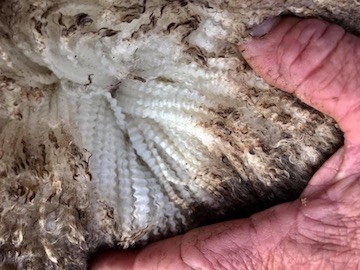 David, Karen & Devon Ridgway, principals of the Ridgway Advance Stud's, have created a distinctive type of sheep displaying all the attributes of the 'Modern Merino.'
These dual-purpose sheep portray a genuine balance in their production
and performance, focusing on both wool and meat qualities, with high reproduction results.
Commitment to a long term stable breeding strategy and selection for both meat and wool traits has seen the Advance sheep become an established recognised genetic line of Poll Merinos renowned for their even, predictable breeding.

Conformation of the 'overall balance and production' in the breed is demonstrated in the 2017 SA Merino Sire Evaluation Trial.
Final report of the 2017-drop hoggets released December 18, Ridgway Advance 103 was the highest-ranking sire from 16 entries across three Sheep Genetics Indexes - DP+, MP+ & WP+. TRAIT LEADER for GFW, CFW, YWT, HWT and FAT and ranked the most favourable with the Classer's High Tops/Low Culls grading. Australian Merino Sire Evaluation Association executive officer, Ben Swain said " it is fairly uncommon for one ram to excel in both wool and carcase traits in a trial, as well as having the highest percentage of progeny visually classed as 'tops' of all 16 Sires."
This clearly identified the 'dual-purpose' capabilities of the Ridgway Advance Genetics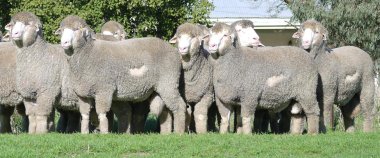 "The Ridgway Advance cataloguing for Reserves, On-Property, Classic '19 & Adelaide was a day not to forget"
'This joint and the Poll Merino quality it oozes was a sight to behold with top class carcass shape, skins and fibre appearing in the race all day long. Close to all progeny were from RA sires.' commented Bill Walker
Annual Ram Sale : Wednesday 14th August 2019
Gordon Wood, Landmark "David, Karen & Devon Ridgway were 'masters' of ensuring the depth of quality right through the sale."

Catalogue
click here to download pdf
Classings Cullings '19 - Bill Walker
"Ridgway Advance regularly use the word 'Balance' in describing their stock and that's what they exhibit."
"The On-Property team? Best ever due to the immense depth of the whole shebang!"
A team of 25 Poll Merino Rams reserved for the Classing Classic 2nd September and 3 Reserved for the Adelaide Ram Sale, Friday the 6th September click here for information
Team Information click here To see pictures of Classing Classic Sale Team please email ridgwayadvance@activ8.net.au as pdf file is to large for web site.