2007 Sales
On Property Auction
Hamilton Sheepvention
Classings Classic Ram Sale

On Property 2007 Auction
Offered & Sold 100 rams - averaged $1450
Mini Auction - averaged $527
Top of $4,800 advances Ridgway Advance Stud Reputation
BORDERTOWN based RIDGWAY ADVANCE Stud is cementing a reputation as the pacesetter in the Merino industry.
It was raining bids last Thursday, 16th August, 2007 with a packed gallery competing for March-shorn, robust wool and meat machines at David and Karen Ridgway's annual on-property sale, cementing the stud's reputation as a pace-set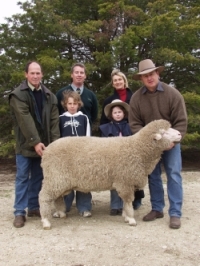 ter within the Merino industry.
Victorian Kevin Hynam, Legume Crest stud, Patchewollock, Vic put in the winning bid at $4800 for a large-framed, free growing ram measuring 18.3 micron, 16.4 per cent coefficient of variation, 3.0 standard deviation and 99.7 pc comfort factor, sired by Walladale 2.
With the average up $170 on 2006, the buoyant total clearance reflected the increased confidence in the meat and wool industries and highlighted Ridgway Advance's concentration on breeding the "Modern Merino" with free-growing, long stapled, soft wool.
Repeat buyer and near neighbour Ian Daniel, Senior Park was the winner of a three-way bidding war for a son of 179, outlaying $4300.
The long-stapled, upstanding ram was carrying a fleece measuring 19.3M, 14.0CV, 2.7SD and 99.5CF and will compliment the $6500 Ridgway Advance ram purchased by Senior Park at the Classings Classic last year.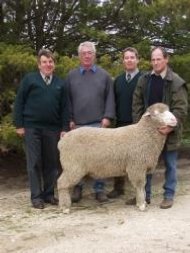 Opening bids above $1000 were the norm among the large crowd of around 55 registered bidders, with the Victorian Mallee contingent particularly strong and often outbidding SA Mallee, South East, Kangaroo Island and Adelaide Hills clients.
The spirited bidding carried over into the mini-auction in the Ridgway's new ecoshelter with 25 of the 32 rams selling to a $900 top and impressive $527 average.
Stud principal David Ridgway said he was nervous before the sale with about ten regular clients absent and making do with their existing sire battery after the hard 2006 season, but was extremely pleased with the result.
David attributed the successful sale to the extensive use of a small number of AI sires and adopting a complimentary breeding program that introduced two new genetic lines to breed a more uniform line-up with "minimal wastage".
"We are concentrating on the wetter rainfall areas and breeding a waxier type of wool that is long stapled and free growing," he said.
"Everyone is looking at the dollar situation and making money so they don't want tight, wrinkly sheep- we have got rid of these genetics."
The sale's success follows a stellar Hamilton debut where Ridgway Advance's pen of five rams averaged $2100- in the top 20 percent of the sale.
Ridgway Advance have between 20 and 22 rams reserved for the Classings Classic sale at Murray Bridge on September 28 and have a reasonable number of private selection rams still available.
Landmark was the sole selling agent with Malcolm Scoop and Gordon Wood officiating the bidding and saying buyers "couldn't wait to get their hands on the sheep"
By Catherine Miller
Stock Journal
Hamilton Sheep Vention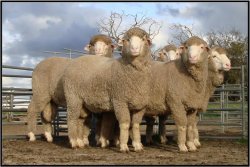 2007 Sale Team - Pen of 5 Rams Averaged $2100, Top 20% of Sale.
2007 Classing Classic Ram Sale


RA 570, selling to White River Stud,
Port Lincoln

A staple length of 102mm - 6mths.

micron - 17.6, S.D. - 2.8, C.V. - 15.9, C.F. - 99.8

Breeding exceptionally well For White River & Sims Uardry
RA Y 213, Sired by WD 2,
Sold to RoseBank Stud,
Mount Pleasant

micron:16.6, S.D.:2.7, C.V.:16.3, C.F.: 99.8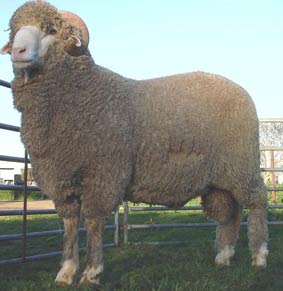 BOTH RAMS used in the Stud's 2007 AI program
and progeny look impressive


"Volume vendors David and Karen Ridgway, Ridgway Advance, Bordertown, made a successful debut of horned rams with all nine clearing to a $3000 top and $1555 average.
Ridgway Advance continued its dream run with Poll Merinos selling all 10 special selections for a $2830 average, including the $7000 top price knocked down to John and Marg Daniell, White River, Port Lincoln"
Part of Classings Classic Sale Report, Stock Journal, by Catherine Miller
October 4th, 2007