RIDGWAY ADVANCE
David and Karen Ridgway, with son Devon have tremendous faith in the merino industry and with their vision and passion; believe in the quality of the Ridgway Advance seed stock.
When it comes to Merinos it is a matter of 'striking the correct BALANCE'. The Ridgway Advance genetics will bring this to your flock, with their dual-purpose attributes, capable of adapting in all conditions.
The Studs long-term strategy is to breed towards the mean and not to use extreme variation. With properly planned joining programs and pedigree selection the Ridgway Advance stud has created a Poll Merino that breeds predictable and of an even type. The Advance sheep display great shape, correct structure with impressive meat traits complemented with white, deep-crimped, well-aligned fibre that grows at a rapid rate.
The Ridgway Advance Stud is situated in the South-East of South Australia 20 to 30 km north of Bordertown, neighbouring the Victorian border with an annual rainfall of 450mm.The Stud has been developing over the last three decades and have been accredited for Brucellosis and OJD since 2002. A 'Gudair' vaccination program commenced in 2012 and the entire Ridgway Advance flock is now full vaccinates.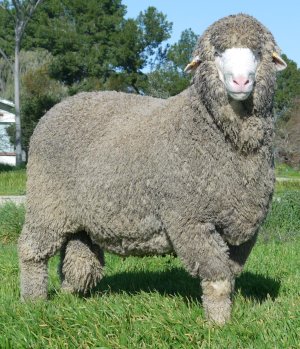 A key component of the Advance Merino is their plain supple and highly productive skin that allows for a robust animal with great carcass attributes to produce long, soft white wool.
The Advance sheep are well known for their ability to reproduce at very high rates and with their distinctive carcass conformation rewarding commercial clients with their bottom line. This is highlighted in several SA & Victoria's renowned ewe sales, wool auctions and lambs processed over hooks achieving outstanding prices. (read More click here)

4363 Emu Flat Road, Senior BORDERTOWN, South Australia.


Enquires Welcome: DAVID RIDGWAY - 08 87542028, 0409408263, ridgwayadvance@activ8.net.au

Free Flock Classing Available
RIDGWAY ADVANCE STRIKING THE CORRECT BALANCE
In the 2017 SA Merino Sire Evaluation Trial RA performed well against ASBV trait leaders.